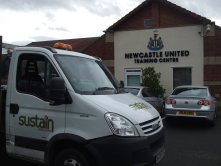 Newcastle United Football Club calls in Sustain Landscapes to maintain their synthetic turf training pitches.
Following on from the successful repair and maintenance works carried out at Sunderland Association Football Club we are delighted to become the contractor selected to carry out maintenance works on Newcastle United Football Club's indoor and outdoor training pitches.
Both pitches were cleaned and de-compacted. This operation not only improves the playing performance of the pitch but also serves to extend the longevity of the playing surface.