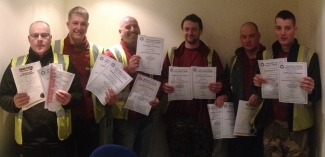 Investment in staff training reached an all-time high in 2012 when every staff member within the Company received formal training with certification to enhance their career development. All staff embraced the training opportunities offered to achieve certification in a range of skills which included: – CITB Site Manager Safety Training Scheme, CPCS Dumper, CPCS Telehandler, CPCS Agricultural Tractor, Slinger/Signaller, Cat & Genny, PA1 & PA6 Pesticide training, Fire Marshall, Abrasive Wheels, Manual Handling and First Aid Training.
In addition two members of staff commenced NVQ's level 2 and level 3 in landscaping, whilst two apprentices were employed who will achieve NVQ level 2 in landscaping upon completion of their training.
Training is viewed as vital to the future development of the Company, not only enabling site operations to be implemented in a safe and knowledgeable manner, but also encouraging career development which will enable future Company expansion.